Structure Fire On Grove St.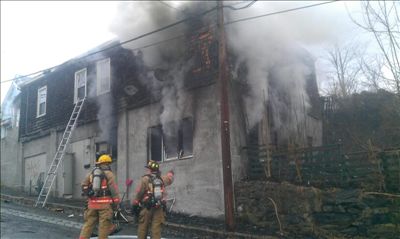 Photo courtesy of Jeff Smith
On March 7, 2013 Platoon 4 was dispatched to a structure fire in the area of McKinley Ave and Grove St. While en route, Norwich Fire reported that they were getting multiple calls for a structure fire at 9 Grove St. Battalion 1 arrived on scene and confirmed a working fire in a two story residence, with fire showing on the first and second floors. Squad A stretched a line to the second floor apartments while Engine 2 made entry on the first floor. Engine 3 then stretched a second line to the rear while Truck 1 began opening up on the roof. Mohegan Sun Fire Department responded as a FAST team, while American Ambulance and Norwich Police also assisted at the scene.